Welcome to 2021, where we have close to a perfect storm for people seeking to "trade up" their home. Looking for an extra room to use as an office? Do you want more space to enjoy the outdoor space of your home? Have you outgrown your current living space? Do you wish you lived in a different neighborhood or city? Whatever the reason, this may be one of the best years to sell your current home and move into the home you have been dreaming of.
1) Mortgage rates remain at record lows. You may be thinking to yourself, "I really want a different home, but there is no way I can afford such an expensive house." With the average interest rate on 1/7/21 being 2.65%, you can borrow more and come out with fairly similar monthly payments as your current mortgage. If your current loan was initially for $400k at 3.5%, you may be able to get a loan today for $445k at 2.65% and have almost the exact same P&I payment for your loan. Take advantage of these 50 year record low interest rates!
2) Demand remains extremely high.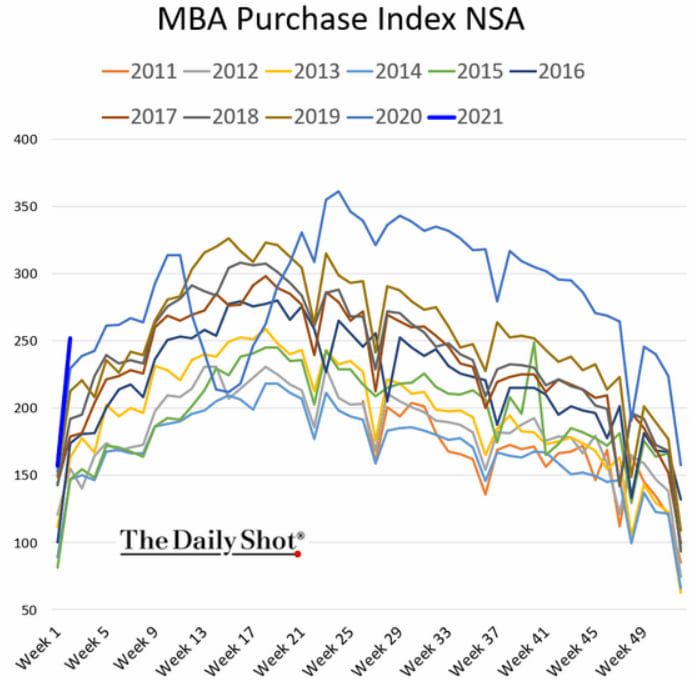 New mortgage applications is off to the strongest start in a decade (and probably longer)! This indicates that the demand for homes will most likely continues to rise as we continue into 2021. At the same time, we are seeing 30 year record lows of inventory on the market.
The high demand and low inventory could mean high competition for purchasing your dream home, but we are currently seeing even higher competition for entry level homes. This means that when you go to sell your current home you will not have to compete with as many similar properties, but you will have a lot of prospective buyers. If priced accurately, you will have extremely high demand. On the other side, demand for larger homes, while still high, has been a little lower. This can be advantages for people looking to move into a larger home.
3) Smaller homes have appreciated faster than larger homes. On average homes under 2,359 square feet have appreciated at a much higher rate (over 6.6% appreciation over the past year alone). Over the same year, homes over 2,360 square feet have appreciated at a rate under 5% year over year.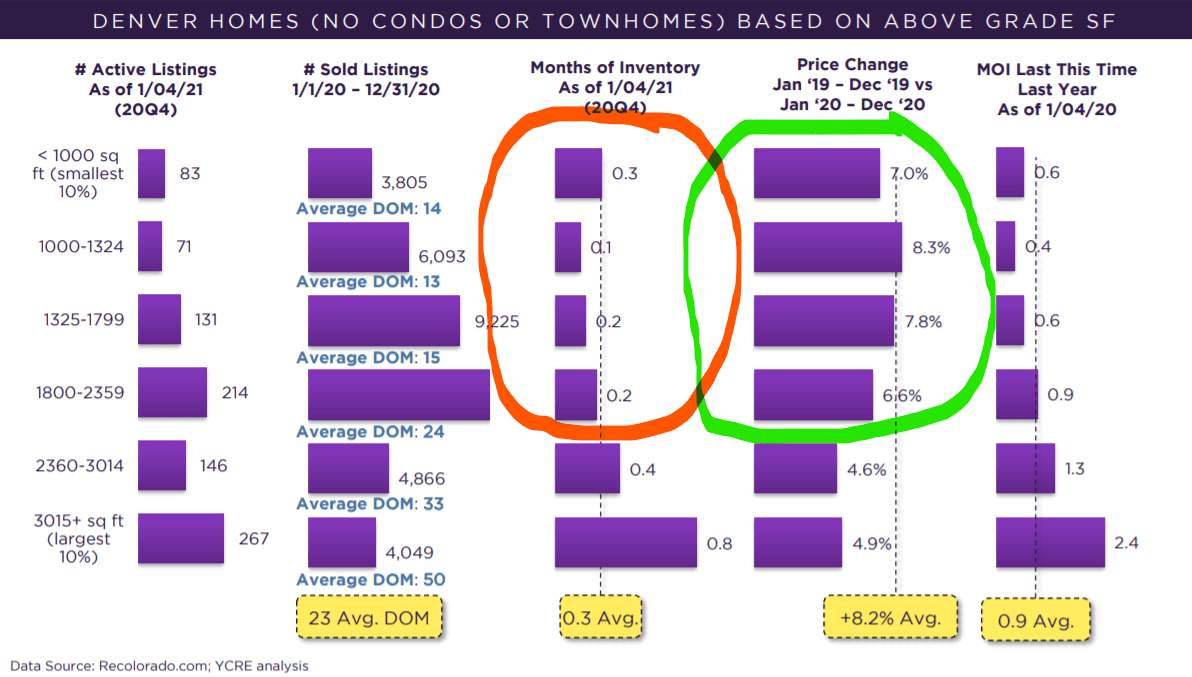 Let's look at how this potentially could play out for you: Your current home was $400k a year ago and appreciated 7% (a gain of 28k). Your future home was $700k a year ago and appreciated 5% (a gain of 35k). The equity in your current home almost went up the same amount as a home that is twice as expensive!
If you have been in your home for several years, you are sitting on a lot of equity that can use toward the down payment of the your future home! This money can go toward a down payment on a new home.
How to make this a reality? The process can be delicate with a lot of moving pieces. You have to prep and list your current home, make sure that financing makes sense for a larger home, identify and purchase your future home, etc. There are several different ways to approach the process and it can become very overwhelming. It is extremely important to have a Realtor strategize with you and walk you through the process. This can alleviate the stress and ensure you get the most possible for your current home and find a perfect home for you to move into. If you are considering such a move this year, reach out to me to further explore if trading up makes sense for you!