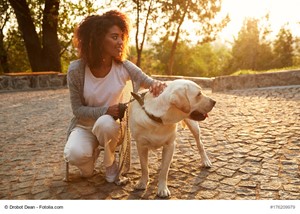 Statistics vary, but according to two credible sources, 44% of Americans own a dog. That means that if you don't own a dog, there's a strong chance one or both of your next door neighbors do!
Why are dogs such a permanent fixture in so many households? Unconditional love is probably the number one reason most people bring a dog into their lives, but enhanced health, home security, and companionship are others.
Health benefits: If you have a dog in your family, you probably already know the power of the "w" word. From a dog's perspective, there are few experiences that outrank the joy of going for a walk with their master! It not only provides a daily bonding experience for both dog and owner, but it's also an opportunity to introduce a moderate amount of exercise into your life -- assuming your doctor approves! While running, athletics, or weight training is not up everyone's alley (or even medically advisable), taking a leisurely stroll in the neighborhood can be a great way to stretch your legs, get some fresh air, and enjoy bonding moments with your four-legged companion! It's also a proven fact that petting or playing with a dog (or cat) can help lower your blood pressure and distract you from the cares and worries of everyday life.
Teaching moments: Not only do most kids love playing with pets, but they can also benefit from learning pet responsibility, kindness, and compassion.
Home security: While it's not an infallible method of burglarproofing your house, having a dog almost always serves as a deterrent. Most dogs are inherently protective of their territory (and loved ones) and will generally bark if they sense an intruder on the property or at the front door. Since one of the last things burglars want to do is call attention to themselves, a barking dog can definitely help keep the bad guys away!
Companionship: Dogs aren't the greatest conversationalists in the world, but they can be a very comforting presence when you're reading a book, watching TV, or relaxing at home. Many also love to join you for a ride in the car, a walk in the neighborhood, or a run in the park.
While dog ownership is not for everyone, more than 40% of us could not imagine life without our canine companion(s)! They do require a lot of attention, patience, and training, but the rewards are usually well worth the effort.
If you're considering getting a dog, you can gather a lot of helpful information about dog breeds, barking tendencies, temperament, shedding, how much exercise different breeds require, and other characteristics from the American Kennel Association. To help ensure a mutually satisfying relationship between you and your dog, it also pays to sign up for a dog obedience class and go online to learn about dog behavior, crate training, and health maintenance.