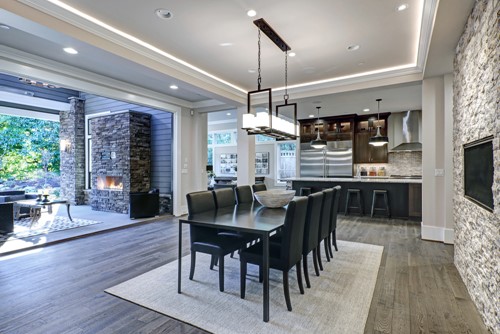 Flooring is a significant part of your home interior decor. It bears the brunt of your daily activities and is always the first surface to reflect wear and tear. With that in mind, consider installing high-end flooring that is durable, lasts longer, and of course, makes your home more appealing. Luxurious flooring can boost your home value tremendously when it is time to sell. Here are top luxury flooring options that are the perfect combination of affordable luxury:



Hardwood Flooring
Hardwood flooring has features that bring a natural flair of luxury into your home. Categories of top, quality, hardwood flooring are exotic hardwoods and reclaimed woods. Upgrading from carpeting to hardwoods adds value, decreases allergens and takes your home up a notch.

Reclaimed hardwoods: Reclaimed hardwood is recycled wood from old barns, industrial buildings, and other teardowns. They come in a plethora of species including: walnut, oak, pine, hickory and elm.

Exotic hardwoods: Exotic hardwoods are a great value because of the scarcity of the wood types in demand. Exotic wood comes from continents like South America and Africa, and the species of wood used include: Brazilian Tigerwood, Bloodwood and Cumaru.
Natural Stone Flooring
Natural stone flooring is an option that oozes beauty and adds class to your home. However, stone flooring is one of the most costly options on the market today due to the processes involved with quarrying and transporting the stones. Before you install natural stone flooring, it is important to remember that the harder and denser the stone, the more costly the floor will be per square foot. Also remember that the features of the stone tile influence a homeowner's buying decision. Such features include the color, rarity and, most importantly, the kind of stone used. With a dizzying world of options to choose from, you may want to start with some samples of natural stone flooring such as cobbled stone, Jerusalem stone marble and granite.
Luxury Vinyl Tile
Luxury Vinyl Tile (LVT) is one of the most popular options for many homeowners who want to have a taste of luxury but remain within the realm of affordability. LVT is durable and injects a feeling of affluence with its natural wood or stone look. It is resistant to dents, chips, moisture damage and heat. Luxury Vinyl Tile flooring is perfect for those who want high-end flooring at a guilt-free price.


Mosaic/Designer Ceramic Floor Tiles



Bring a touch of style and luxury into your home with mosaic floor tiles. This type of flooring comes in a wide range of options to choose from such as Italian tiles, antique reclaimed tiles, pebble mosaics, custom mosaics, glass tiles and handmade tiles.

Visit your professional flooring store and consult with a designer on some of the best flooring options to consider for your home and office space. If you plan to sell, check with your real estate agent to see what's going for top dollar in your current market.